1. Hair Love by Matthew A. Cherry
An ode to self-confidence and the love between fathers and daughters by the former NFL wide receiver depicts an exuberant little girl whose dad helps her arrange her curly, coiling, wild hair into styles that allow her to be her natural, beautiful self.
2. M is For Melanin by Tiffany Rose
Each letter of the alphabet contains affirming, Black-positive messages, from A is for Afro, to F is for Fresh, to W is for Worthy. This book teaches children their ABCs while encouraging them to love the skin that they're in.
3. Enough! : 20 protesters who changed America by Emily Easton
From Samuel Adams to the students from Parkland, march through history with the heroic revolutionary protesters who changed America. These heroic protesters were not afraid to stand up for what they believed in. They are among the twenty change-makers in this book who used peaceful protests and brave actions to rewrite American history.
4. Sulwe by Lupita Nyong'o
When five-year-old Sulwe's classmates make fun of her dark skin, she tries lightening herself to no avail, but her encounter with a shooting star helps her understand there is beauty in every shade.
5. Not My Idea: A Book About Whiteness by Anastasic Higginbotham
A white child sees a TV news report of a white police officer shooting and killing a black man. "In our family, we don't see color," his mother says, but he sees the colors plain enough. An afternoon in the library's history stacks uncover the truth of white supremacy in America. Racism was not his idea and he refuses to defend it.
6. This Book is Anti-racist by Tiffany Jewell
Who are you? What is racism? Where does it come from? Why does it exist? What can you do to disrupt it? Learn about social identities, the history of racism and resistance against it, and how you can use your anti-racist lens and voice to move the world toward equity and liberation.
7. Saturday by Oge Mora
When all of their special Saturday plans go awry, Ava and her mother still find a way to appreciate one another and their time together.
8. Layla's Happiness by Mariahadessa Ekere Tallie
Seven-year-old Layla divulges many things that make her happy, especially her family and their community garden.
9. Can I Touch Your Hair? by Charles Waters and Irene Latham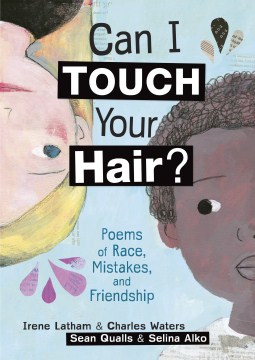 Poems from the alternating perspectives of two students explore such topics as hair, hobbies, and family dinners.
10. The Day You Begin by Jacqueline Woodson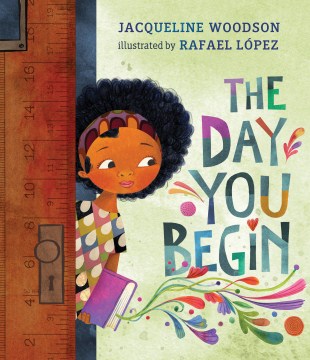 Other students laugh when Rigoberto, an immigrant from Venezuela, introduces himself but later, he meets Angelina and discovers that he is not the only one who feels like an outsider.